2-player-brute-pandora-box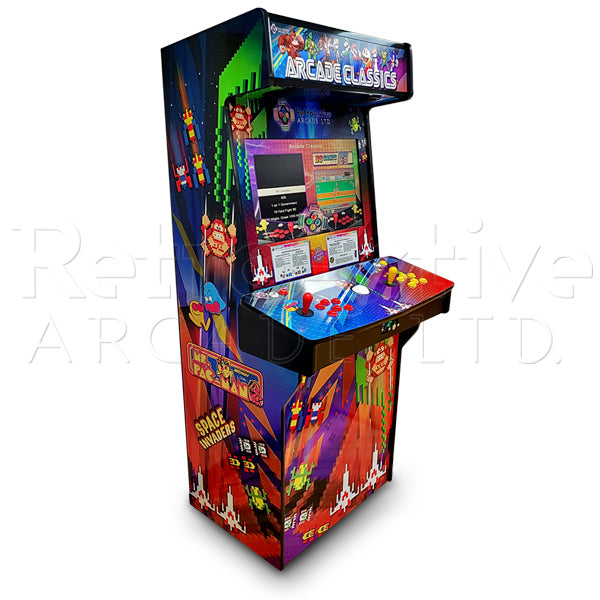 Note: We are offering a 2.5% discount off Arcade Machines purchased with cash, e-Transfer or Bank Wire Transfer. Contact Customer Service to get your savings!
To view prices in USD please use Google Currency Converter.
Stock photo used. Actual product may differ.
Basic

$3399.99 CAD

(plus tax if applicable)

Highest Quality Components
Choice of Pandora Box:
3300-in-1 EX
5000-in-1 DX Special

Your Choice of Decal
3" Arcade Trackball
Any Color Trim Except Metallic

Your Choice of Button Colors
Your Choice of Joystick Colors 

Upgrades


All upgrades are optional and additional to the Basic Price.

 

Coin Door Upgrade: up to $250
4 Way Joystick Upgrade: $75
Chrome or Gold Trim: $75

Illuminated Pushbuttons: $125
Decal themes seen in our Galleries or on our Social Media that we have done in the past is a decal option for your machine. Please note this is restricted to arcade models of the same style.
(ie. stand up, cocktail, etc)

---
Looking For A Payment Plan? We Offer Financing For All Canadians!
Check out the Payment Estimator* below.
Payment Estimator
*This link is simply to provide our customers with an idea of what their payments might look like. Terms may vary. Final cost will depend on Arcade Model, optional upgrades and provincial taxes. Shipping will be calculated and paid for separately.
---
The Brute is built in a modular fashion and built be taken apart with a household screw driver and 1/2" wrench so that it will fit through any man sized door over 24" wide. All arcade parts are installed in a similar fashion for ease of warranty repairs and part replacements, no need for a technician with these bad boys!

All of our Brute Arcade Machines include the following features:
3/4" Melamine Construction
28" LCD Monitor
3" Trackball
Suzo Happ Competition 8 Way Joysticks
Fusion Pushbuttons
Back-lit Plexiglass Marquee with Graphics
2.1 Sound System with Audio Control (mounted on exterior front of machine)
Lockable Back Access Panel
3 Year Warranty (excluding physical & liquid damage)
Free Online and Phone Technical Support
Actual Dimensions:

Base & Body:

 

29.5" x 24.5" x 6.5' (W x D x H)

Console:

 

34.5" x 14" (W x D)
Total (Assembled): 34.5" x 29" x 6.5' (W x D x H)
Total Weight:

 

225 lbs
*Shipping is flat rate for main city locations in Canada and USA. Please see our Shipping Policy for further details*
Arcade Terms of Service
Retro Active Arcade Ltd manufactures arcades with coin doors for novelty and aesthetic purposes only. We inform all customers of the legality of any multi game board and the absence of legal license to operate the arcade in a commercial setting to generate revenue. Retro Active Arcade Ltd equips all arcades with a Free Play Button as the systems are not designed or sold for commercial use. This product has been designed for a specific personal use of application. This product may not be used for unlawful purposes and that use is expressly prohibited. In no event shall Retro Active Arcade Ltd be liable for any direct, indirect, incidental, special consequential damages, to property or life, whatsoever arising out of or connected with the misuse of it's products. Retro Active Arcade Ltd will also not be liable for any punitive damages, fines, or legal action in accordance with the customers local gaming laws.