arcade-power-bundle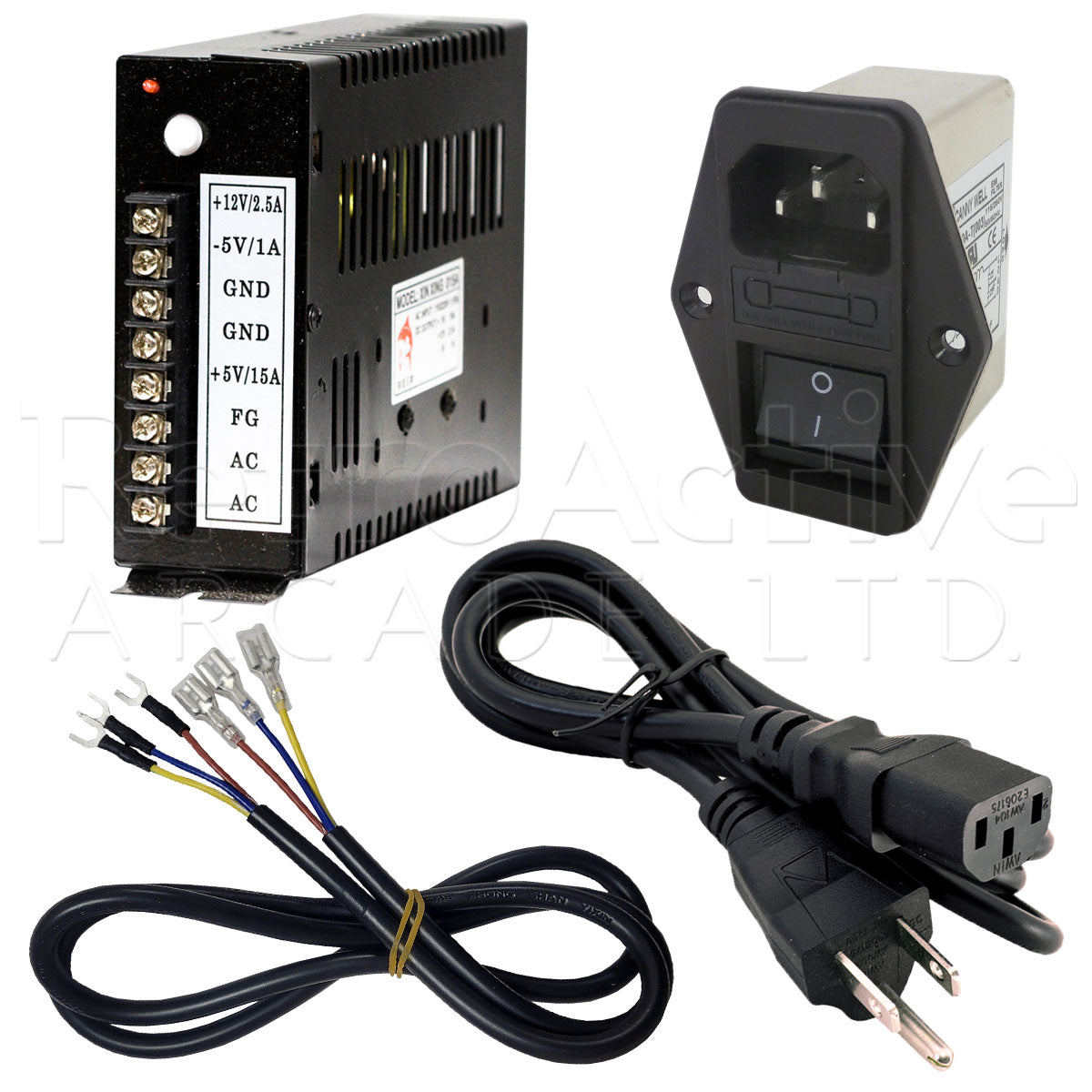 Arcade Power Bundle
Whether you need a power solution for an older Arcade System, or your own DIY Arcade build, this bundle has the basics.
Includes:
1x Switching Arcade Power Supply
1x EMI Filter Power Switch
1x Power Switch to AC Cable
1x IEC Power Cable
This kit contains items for which stock levels are not accounted for individually. If an item included in this kit is out of stock your order will not ship out until it is complete. Feel free to contact us regarding stock levels prior to purchasing if your order is time sensitive.
Specs
Product Specifications
Switching Arcade Power Supply Specs:
Size: 183mm x 52.31mm x 125.29mm (H x D x W) 
Net Weight: 830gs/pc 
AC Input : AC 110V - 220V
DC Output: +5V/16A, +12V/4A, (+5V adjustable). 
110 Watt switching power supply.
Input Frequency: 47~63Hz 
LED power on indicator 
Built-in EMI Filter 
Vertically, Horizontally and Wall-Mount 
Maximum noise minimization by built in high speed diode. 
Over Load Protection, 130% of Rated Load Short Circuit Protections 
Convection cooling Operation Temperature, 0 centigrade to 35 centigrade 
Storage Temperature, -20 centigrade to +85 centigrade 
THE -5v ON THIS SWITCHING POWER SUPPLY IS NON-FUNCTIONAL
Be sure to switch this power supply to 110v for all North American use before connecting to components and powering on.
EMI Filter/Power Switch Specs:
One fuse and switch control. 
Safe and reliable, easy to install and cost-effective. 
Rated Voltage: 110V/220V 
Rated Current: 0.5A~10A 
Operating Frequency: 50/60Hz
Wiring & Instructions
Please see the diagrams below on how to connect your EMI Filter/Power Switch to your Switching Arcade Power Supply and for a description of quick-disconnect terminal sizes.
EMI Filter to Power Supply Wiring Diagram

Note for Power Switch to AC Power Cable: Yellow/Green is typically ground, Brown is White and Blue is Black in the wiring diagrams.