12v Illuminated Fusion Buttons 28mm- Yellow
Universal
12v-28mm-led-fusion-buttons-yellow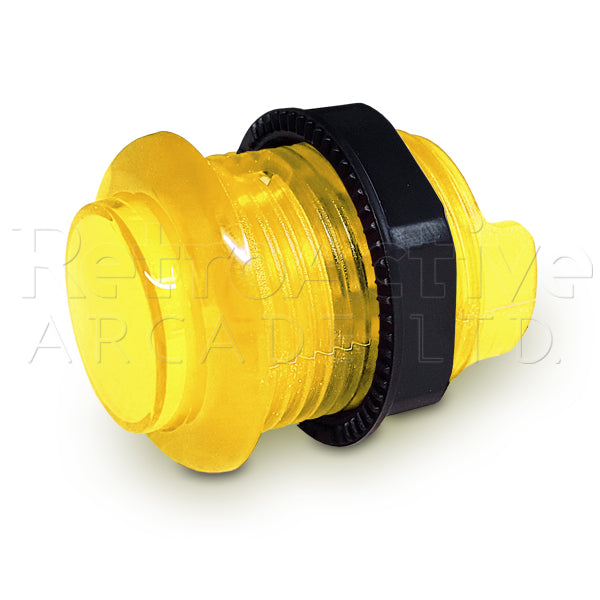 12v Convex Illuminated Fusion Buttons 28mm in Yellow
Illuminated hybrid American style pushbutton with Sanwa type microswitches. Ultra quiet and effortless ease of use. These buttons are shorter than the standard American Style Buttons which means they can be used in control panels and fight sticks that have a limited amount of space!
Gold-plated contacts means:
The contact leaves and the external connections are fully gold plated

No tarnishing
No deterioration in response time
Includes:
1x 28mm Yellow 12v Illuminated Fusion Button
1x Button Nut
Features
Product Features:
12v Power required for LED illumination.
Low inertia - the moving part of the button is ultra-light and only 10mm deep (unlike other types where the plunger extends the full depth of the button)
'No Click Leaf' switch means no noisy, clicking micro-switch
No Plunger Spring! The body of the button contains no large spring. This results in a uniquely low actuation force of 45 grams for the entire button.
No Hysteresis. This is the difference in button depression for the contact close and open points. On these buttons the position is the same, resulting in maximum repeated actuation performance. On micro-switch buttons this "dead" distance can be up to 1.5 mm.
Convex top. Most serious gamers prefer the convex tops over the classic concave which are commonly used on American Style pushbuttons.
Robust. The limit stop of the button is supported by the button body not the switch so no chance of switch damage owing to over-enthusiastic play!
Compact integral design. No fiddly assembly after fitting through the panel. Totally enclosed leaf-switch contacts.
Economic. Despite their performance these are similar in price to standard arcade buttons and the price is all-inclusive, nothing extra to pay for add-on switch options.
Nut & Thread Fixing. We have retained the traditional threaded fixing rather than the push-in design of certain other low-inertia buttons as we believe this gives the most effective permanent mounting in all types of panel up to 19mm (3/4 in).
28mm diameter - button mounts in 1-1/8" hole (standard)
.110 terminal connections for both the Microswitch & LED
Wiring
Wiring Information: 
These buttons have .110 terminals for both the microswitch and for LED wiring. The microswitch wiring is 1 wire for ground connection and 1 wire for signal connection. LED wiring is polarized and requires 1 wire for the positive connection and 1 wire for the negative connection.
Click on the image below to see the full diagram on how these buttons should be wired.

Don't know the difference between .110", .187" and .250" Terminal Connectors? Check out the diagram that explains this below! Click on the image to view the full size.