ultimate-super-bass-audio-kit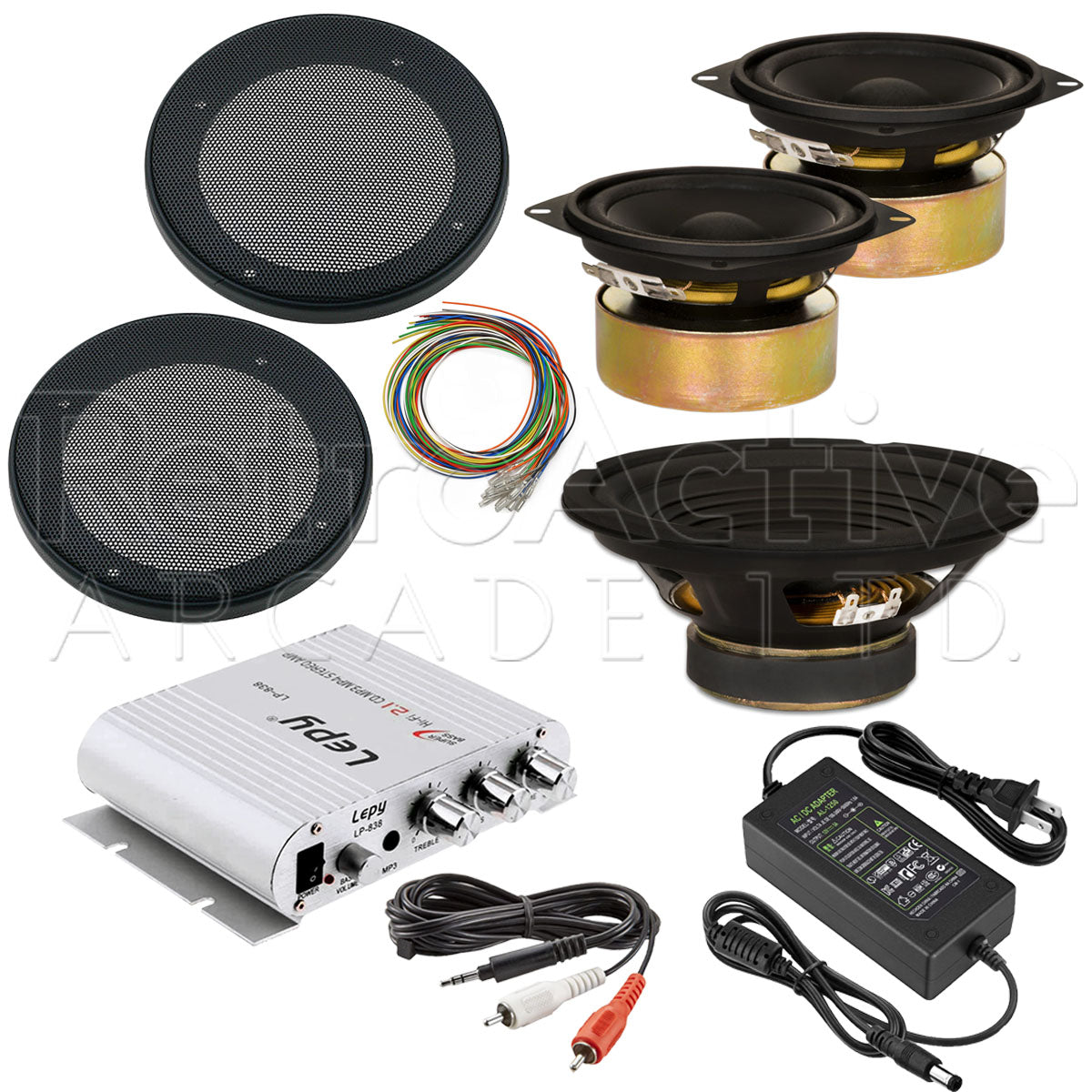 Ultimate 2.1 Super Bass Stereo Audio Kit
Looking for a high quality audio solution for your Arcade Machine? This kit has everything you need to add good quality sound and audio control to your Arcade Machine whether it is JAMMA or MAME based. This kit boasts some deep bass too!
Includes:

2x 4" 8 Ohm 40W Shielded Speakers
2x Metal Speaker Grills
1x 8" 8 Ohm 100W Subwoofer
1x Lepy LP-838 Audio Amp
1x 12v 5A Power Supply
1x RCA Cable
8x Individual 1 Meter Wires with .187" terminals
Hardware is not included. Stock images used. Items received may not be exactly as seen.
This kit contains items for which stock levels are not accounted for individually. If an item included in this kit is out of stock your order will not ship out until it is complete. Feel free to contact us regarding stock levels prior to purchasing if your order is time sensitive.
Specs
Audio Amp Specs:

Model Number:

 

LP-838
Input Power:

 

12V3A
Output Power (RMS): 15W x2 channels (speakers), 20W x1 channel (bass)
Max Output:

 

200W
Speaker Impedance:

 

2-8 ohms
Input Impedance:

 

47K
Input Sensitivity:

 

270mV
Frequency Range:

 

20Hz-20KHz
Total Harmonic Distortion:

 

<0.4%
SNR:

 

>80dB
Material: Lightweight Aluminum

Dimensions:

 

15.4cm x 12.9cm x 3.9cm (L x W x H)
Net Weight:

 

0.24kg
Color:

 

Silver
NOTE: This is for mono and stereo sound only.
Speaker Specs:
Fits Enclosure Hole Size of 4"
Mounting Depth: 2-3/16"
Overall dimensions diagonally is 5" (corner to corner)
Mounting Holes: 3-1/4" (center to center)
40W RMS, 70W Max
70 - 13,000Hz Frequency Response
86 dB SPL
8 Ohm Impedance
1" Aluminum Voice Coil
Poly Laminated Cone with Rolled Foam Surround
10oz Magnet
Fully Shielded
Steel Stamped Frame
Terminals: .187"
Subwoofer Specs:
100W RMS, 200W Max
45 - 7000Hz Frequency Response
88 dB SPL
8 Ohm Impedance
1.5" Aluminum Voice Coil
20oz Magnet with Bumper Plate and Vented Pole Piece
Stamped Steel Frame
Fits Enclosure Holes Size of 7-1/4"
Mounting Depth 3-3/8"
Terminals: .187"
12v Power Adapter Specs:
Input: 100V-240V 50/60Hz 1.5A

Output: DC 12V 5A 
Output Jack Size: 5.5mm x 2.5mm-2.1mm
Instructions
Instructions for connecting your Audio Amp to your system and speakers.