standard-12v-audio-kit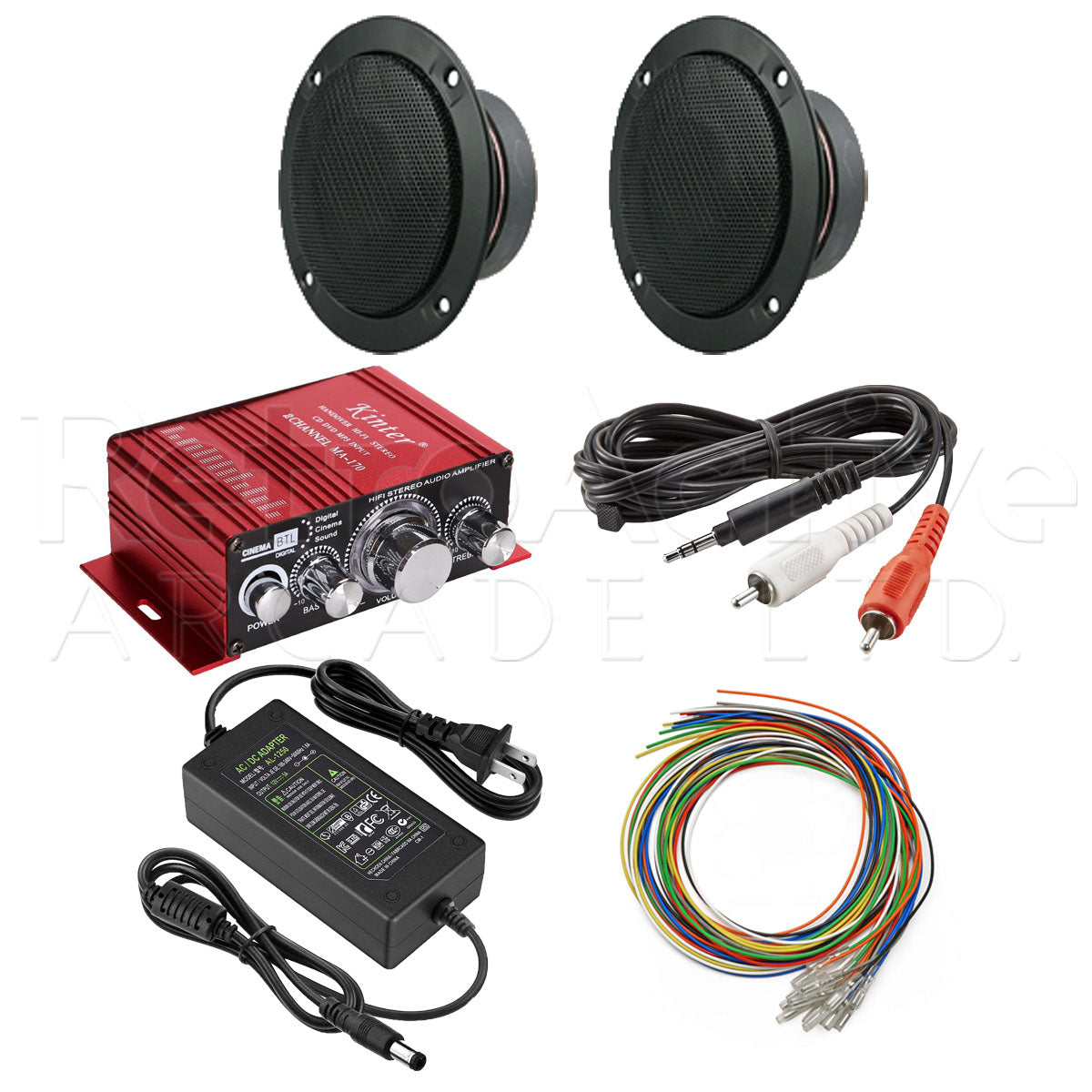 Standard 12v Audio Kit
Looking for high quality audio solutions for your Arcade Machine? This kit has everything you need to add good quality sound and audio control to your Arcade Machine whether it is JAMMA or MAME based. 
See Specifications and How To above.
Includes:

2x 4" Covered 50W 8ohm Speakers
1x Kinter MA-170 Hi-Fi Audio Amp
1x 12v 5A Power Supply
1x RCA Cable
4x Individual 1 Meter Wires
Hardware is not included. Stock images used. Items received may not appear exactly as seen.
This kit contains items for which stock levels are not accounted for individually. If an item included in this kit is out of stock your order will not ship out until it is complete. Feel free to contact us regarding stock levels prior to purchasing if your order is time sensitive.
Specs
Product Specifications
Audio Amp Specs:
Working Class:

 

AB
Power Input:

 

12V 2A (max 14V)
(Hz):

 

10Hz+/-1dB
Size:

 

12.5cm x 4cm x 7cm (L x W x H)
Power Output:  2x 18W
Output Impedance:

 

4 - 16 Ohm
Frequency Response: 20Hz-20KHz
RMS T.H.D:

 

0.02%
RMS S/N Ratio: 90dB
Music Peak Power:

 

45W x2
Operating Temperature:

 

10~45C
NOTE: This is for mono and stereo sound only.
Click To Zoom
Speaker Specs:
Dimensions: 4" x 4" x 1.42"
Impedance: 8 Ohm
Wattage: 50W RMS, 100W Max
Magnet: 10oz
Frequency Response: 550 - 15,000Hz
SNR: 92dB SPL
Voice Coil: 0.75" Hi-Temp Kapton
Cone & Surrounds: Black Paper Cones, Rolled Foam Surrounds
Grill: Protective mesh grill
Frame: Stamped Steel
Connection Terminals: 0.187"
Closed Back
Click To Zoom
12v Power Adapter Specs:
Input: 100V-240V 50/60Hz 1.5A

Output: DC 12V 5A 
Output Jack Size: 5.5mm x 2.5mm-2.1mm
How To

How To Audio Amplifier Video
Kinter Amp Operation Instructions