SpinTrak Rotary Control Spinner
Ultimarc
spintrak-rotary-control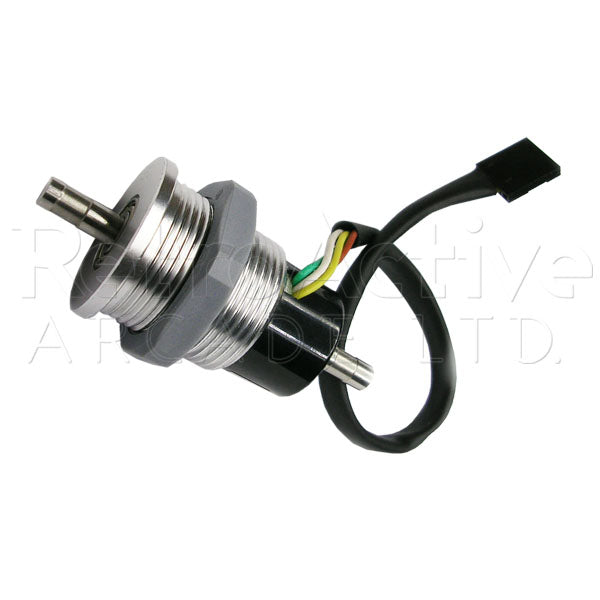 SpinTrak Rotary Control Spinner
A user friendly, easy to mount and high quality spinner for games such as Arkanoid, Tempest and more! This spinner mounts in a standard 1 1/8" hole and doesn't require any hardware to mount to your control panel other than the nut included.
Purchase the optional Fly Weights to add inertia and choose from several different colors of Spinner Knobs or a Steering Wheel for racing games such as Super Speed Race!
This spinner connects directly to Ultimarc's I-PAC 2, Mini-PAC and Ultimate I/O boards directly. It does not connect directly to the I-PAC 4 however you can purchase the USB Adapter to connect it directly to your computer via USB instead.
Includes:
1x SpinTrak Rotary Controller Spinner
Spinner Knob, Fly Weights, Steering Wheel and USB Adapter Sold Separately
Features
Can be used as a lightweight Super High Resolution Low-Inertia Trackwheel control as used in "Arkanoid"
Can also be used as a spinner with the addition of one of two sizes of fly-weight to provide inertia giving long spin-times of up to 20 seconds.
Correctly-designed flywheels with mass concentrated at the larger radius.
Ultra-high resolution. Unbeatable 1200 pulses per revolution.
Super-tough quality. Unit is manufactured by a supplier of encoders for high-speed motor usage and is almost identical to their industrial unit.
Dual sealed ball-bearing races give the ultimate in smooth control.
One-Piece bearing housing/body CNC machined from a solid alloy billet.
Available in two versions: for direct connection to USB (USB Adapter sold separately), or for direct connection to the I-PAC 2, Ultimate I/O, or Mini-PAC interfaces.
In USB mode, this is the worlds only USB 2.0 spinner. USB 2.0 enables a 16-bit interface and a faster packet-rate than USB 1.1 Vital to avoid slowdown or backspin.
Usage not limited to gaming! Also suitable for precision control applications, CNC interfacing and other rotary measurement applications.
Compatible with Windows, Raspberry Pi/Linux.
Can be used with wood or metal control panels
Pinout
Pinout:
Brown: +5v
Green: X2
White: Ground
Yellow: X1
Dimensions

Item Dimensions:
Total Height: 3"
Shaft Height: 5/8"
Width: 1 1/8"
Related Items

These items can be used directly with the Ultimarc SpinTrak Spinner: