pandora-box-ex-3300-in-1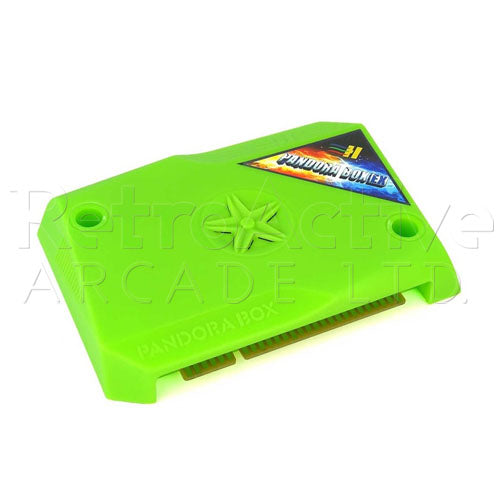 Pandora Box EX (3300-in-1)
Horizontal Multigame JAMMA PCB
The Pandora Box EX is the latest JAMMA board from 3A Game. With updated software, new and improved hardware, and no hard drive to fail this multi-game board offers a great gaming experience! The Pandora Box EX features games and systems not available on the popular Pandora Box DX 3000-in-1 or earlier versions such as Killer Instinct, N64, PSP and more! The game list can be searched by category OR by typing in the name of the game you are looking for using a virtual keyboard!
Includes:
1x Pandora Box EX JAMMA Board (3300-in-1)
1x User Manual
DISCLAIMER
These are a product of China. Due to translation from Chinese to English some games may be listed with the incorrect name. Retro Active Arcade Ltd. is not to be held responsible for these mistakes as we are not the manufacturer of these particular gaming systems.
PBDX vs PBEX
Features
Pandora Box EX Features:

More console games and game systems than previous versions such as N64, PSP & Dream Cast
Precise Search  - Search by name, category or alphabetical order!
High Score Record - Saves your highest score automatically!
Supports 3 & 4 player games! *USB Game Pads must be used for Players 3 & 4*
Add scan lines for a truly retro experience!
Now with 58 3D games!
Add up to 5000 more games on your own USB Stick! Supports FBA, MAME, PS1, SFC/SNES, FC, Mega Drive, PSP, N64 and Dream Cast.

 

*Please note we do not offer support for adding extra games to any Pandora's Box JAMMA board*
Standard Features:

Universal JAMMA connector
User friendly game selection menu
Free play or coin in option
Pause functionality (press player 2 credit while in game OR hold Player 1 button)
Video outputs supported:
VGA (1280 x 720)
HDMI (1920 x 1080)

External volume adjustment control
Item Requirements
Requirements for 1 Player setup (Minimum):
Horizontally mounted monitor
1 Joystick, 6 buttons & 1 Player button
Standard JAMMA Arcade setup
**Credit Button required when not in Free Play**
Requirements for 2 Player setup (Optimal):
Horizontally mounted monitor
2 Joysticks, 12 buttons & 2 Player buttons
Standard JAMMA Arcade setup
**Credit Button required when not in Free Play**