4-player-jamma-arcade-kit-1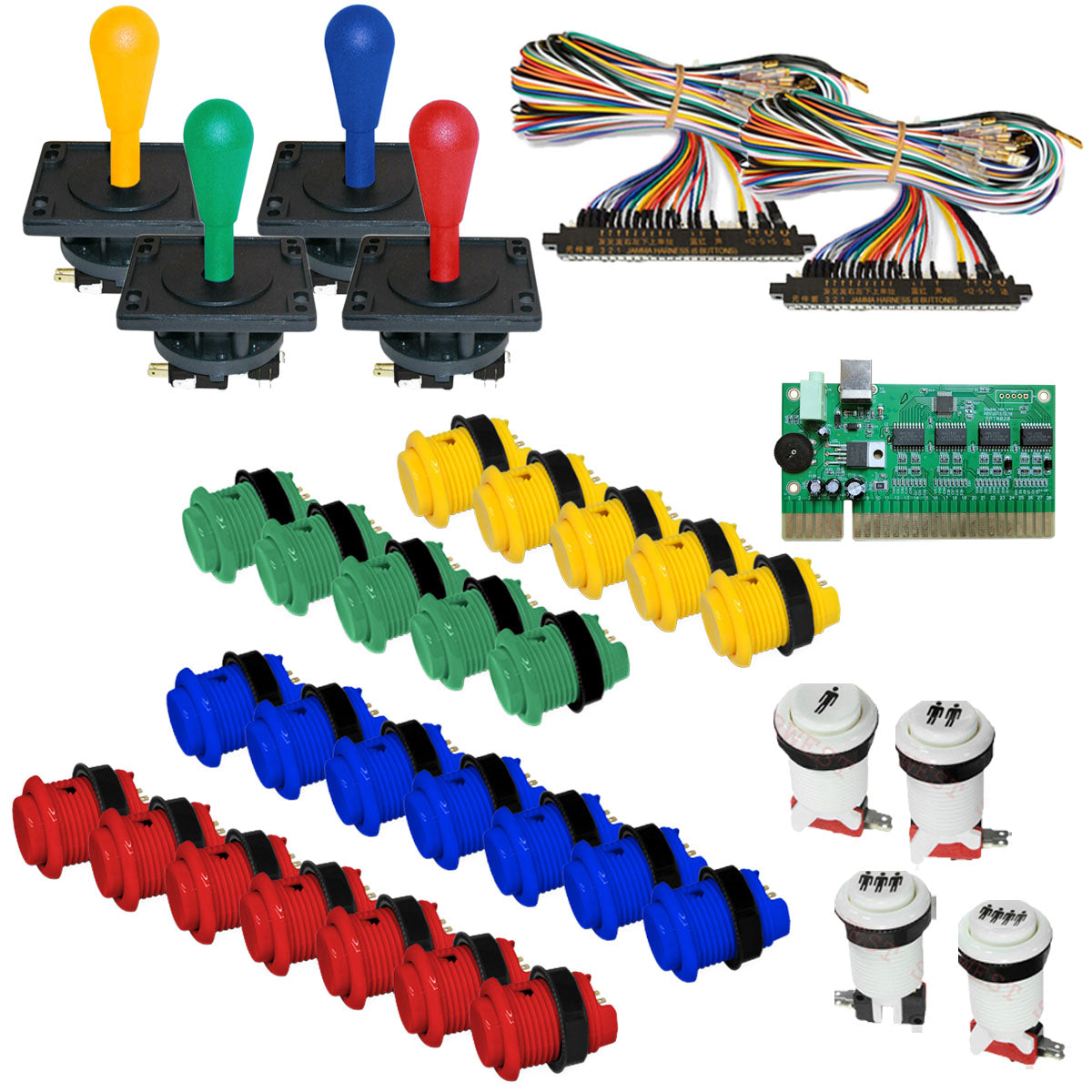 Pandora Box DX Four Player JAMMA Kit (Basic)

Now you can play the Pandora Box DX JAMMA board in a 4 Player set up!
Create your own unique kit with our customization options! Included in this kit are the basic components you need to build your 4 player JAMMA DIY Machine. Mix and match colors, buttons styles and joystick types to suit your specific needs. This is for a horizontal monitor position in a 4 player upright/pedestal Arcade Machine.

IMPORTANT: Please read the Instructions Tab for the 4 Player Adapter in this kit. This is required to set up your Pandora Box DX JAMMA board to allow for 3 & 4 Players.

This kit is only compatible with Pandora Box DX and EX JAMMA boards.
Included:
4x Joystick of Choice
24x Buttons of Choice
4x White Printed Player Button 

(Plain White button with button decal insert will be provided if Illuminated Buttons are selected)

2x JAMMA Harnesses
1x 4 Player JAMMA Adapter
Items received may not be exactly as shown depending on options selected.
This kit contains items for which stock levels are not accounted for individually. If an item included in this kit is out of stock your order will not ship out until it is complete. Feel free to contact us regarding stock levels prior to purchasing if your order is time sensitive.
Wiring
Please see the diagrams below for JAMMA Wiring and quick-disconnect terminal sizes.
Instructions
Instructions to connect 3 & 4 Players to your Pandora Box DX JAMMA board.
Step 1: While your system is powered on, enter the settings menu by pressing the settings button on the side of your JAMMA board. See the image below.
Step 2: Go to System Config and press Button A on Player 1 to select.
Step 3: Go to Game Pad Settings (last setting) and press Button A on Player 1 until the Game Pad settings are 3P & 4P.
Step 4: Return to the main Settings Menu by pressing the Player 1 Button.
Step 5: Scroll down to Save Settings and press Button A on Player 1 and select YES. The system will save the settings and reboot to the main Game Menu.
Step 6: Turn off your system and connect the adaptor board to the Pandora Box DX via the USB cable. Connect the USB cable into one of the USB ports on the back side of the board.
*NOTE* The JAMMA Harness connected to the adapter board will also need the Power Wires (+12v, +5v & Ground) connected to your power source.
Step 7: Turn on your system and play!
NOTE: Players 1 & 2 are hardwired to your JAMMA board and will always be Player 1 and Player 2 respectively. Players 3 & 4 will swap places depending on which set of controls is activated first. This means that the set of controls wired as player 4 may become Player 3 if the Player 4 button is pressed first. This resets after each shut down.