4-player-raptor-light-gun-15k-retro-active-theme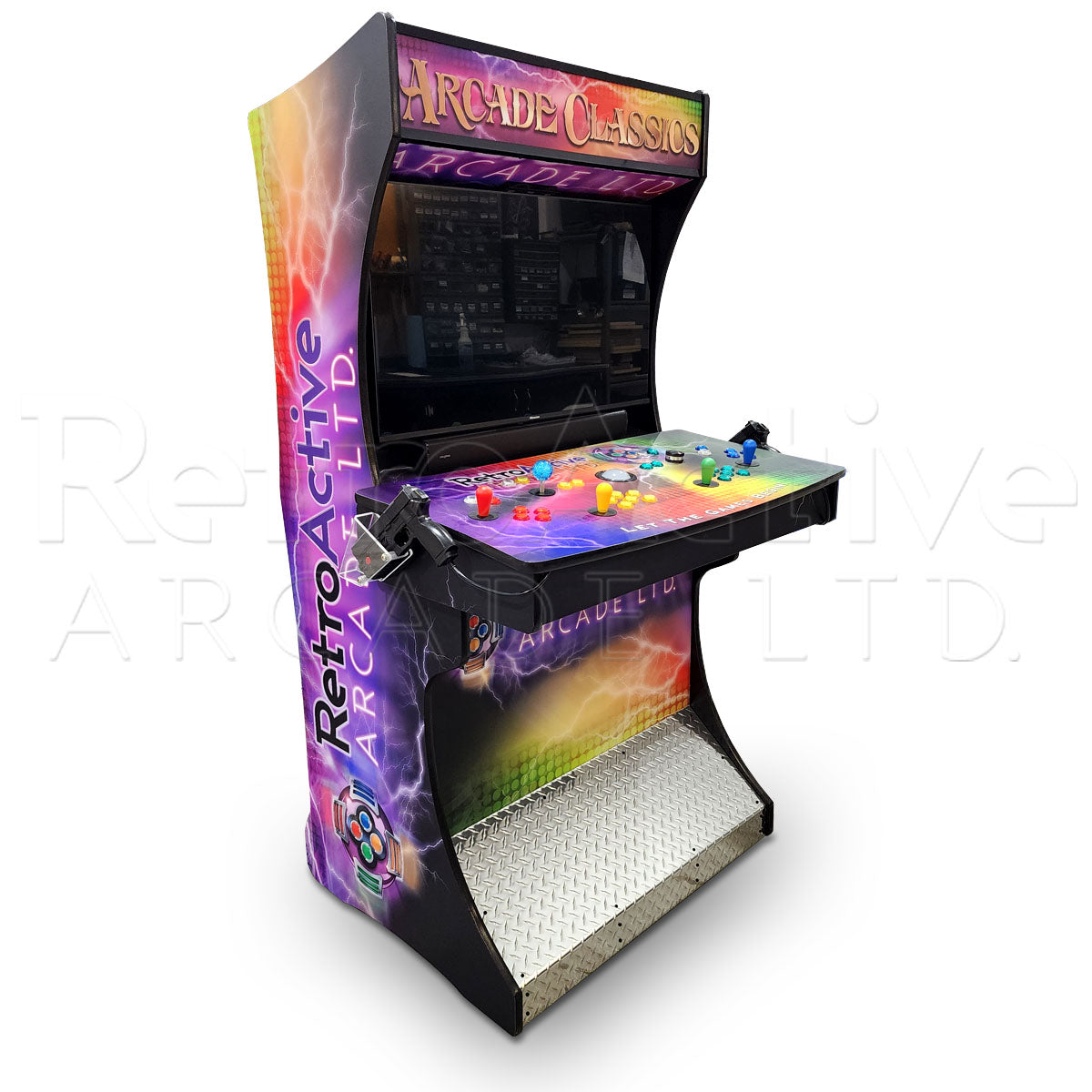 Stock Machine "Raptor" 4 Player Light Gun Arcade System - Retro Active Arcade Theme
SHIPS WITHIN 2 - 5 BUSINESS DAYS
---
We Offer Financing For All Canadians!
Payment Estimator
*This link is simply to provide our customers with an idea of what their payments might look like. Terms may vary. Final cost will depend on Arcade Model, optional upgrades and provincial taxes. Shipping will be calculated and paid for separately.
---
Actual Dimensions:
Base & Body:

 38

" x 30" x 6.5' (W x D x H)

Console:

 43

" x 35" (W x D)
Total Weight:

 325

 lbs
Includes:
40" HD TV Screen
Blue Retro Active Arcade Theme Decal
Suzo Happ Competition Joysticks
LED Fusion Buttons
RGB LED Trackball
2x AimTrak Recoil Light Guns
Black Leather Trim
Plexiglass top over Control Panel
2.1 Sound System
Lockable Back Access Panel
1 Year Warranty (excluding physical & liquid damage)
Exclusive to Retro Active Arcade

 

15,000 Game List - Contact Us
*Game lists are subject to change at any time*
Addon Features:
LED Package Upgrade

Cabinet LED Light Kit Upgrade
Spinner Upgrade
4 Way Joystick Upgrade
Arcade Terms of Service
Retro Active Arcade Ltd manufactures arcades with coin doors for novelty and aesthetic purposes only. We inform all customers of the legality of any multi game board and the absence of legal license to operate the arcade in a commercial setting to generate revenue. Retro Active Arcade Ltd equips all arcades with a Free Play Button as the systems are not designed or sold for commercial use. This product has been designed for a specific personal use of application. This product may not be used for unlawful purposes and that use is expressly prohibited. In no event shall Retro Active Arcade Ltd be liable for any direct, indirect, incidental, special consequential damages, to property or life, whatsoever arising out of or connected with the misuse of it's products. Retro Active Arcade Ltd will also not be liable for any punitive damages, fines, or legal action in accordance with the customers local gaming laws.